We've got tiny homes, luxury domes, and hobbit homes for you to enjoy.
You probably already know what makes North Carolina such a gorgeous state, from its lustrous foggy mountain tops to its beaches to its lush forests. But an even better way to spend time outdoors amongst some of the most beautiful nature NC has to offer is to also stay in an incredible treehouse, cabin, or architecturally-unique homes. We've rounded up 8 awesome Air BnB experiences perfect for any weekend when you want to get outdoors and enjoy a little solitude.
This romantic and secluded Air BnB was actually voted North Carolina's #1 2020 Wishlist Destination, and for good reason too. Less than 2 and a half hours from Charlotte is this treehouse, accessible by a swinging rope bridge, and perfectly tucked away within the foliage of Old Fort. Whether you want to relax away from the hustle and bustle or enjoy a romantic weekend exploring the woods and kicking back in the hot tub, this is definitely a must-visit. Book a weekend here.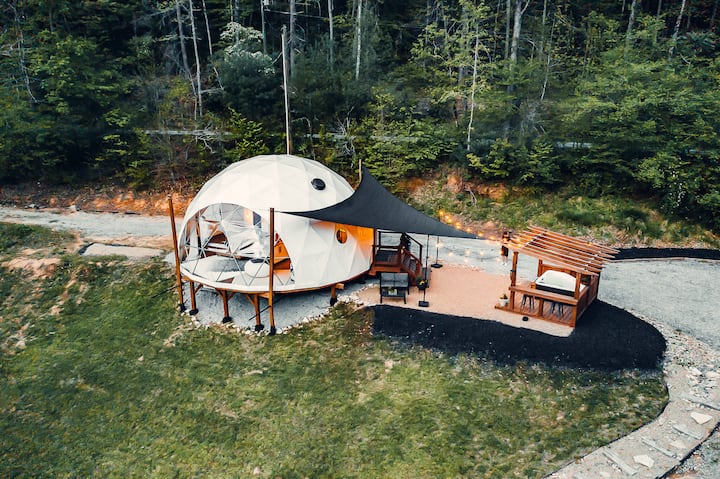 Get your glamp on at this luxurious camping dome perfect for two. This one is nestled near Lake Lure, but the host has got a few different luxury domes to choose from if one is booked up (hint, these are quite popular). If you're worried whether or not glamping can be comfortable, the host has put a Nespresso machine, it's got wi-fi, and the plumbing and heating are taken care of for you.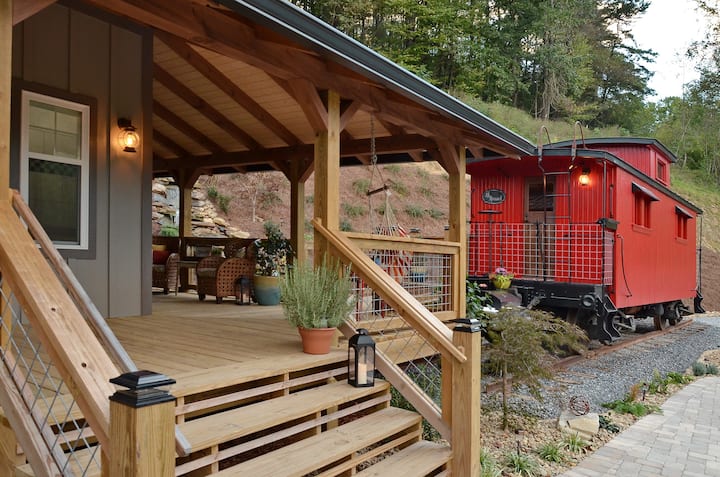 Another glamping experience, though this one looks a little more transient. This unique experience is located 10 miles from the Great Smoky Mountain National Park on a private 20 acre farm. The tiny house is decked out in vintage decor and offers an outdoor grill and outdoor shower, and because this is located on a farm, you may encounter some wild sheep, goats, or chickens. Guests will be able to enjoy the caboose interior, the outdoor patio bathhouse, and the tiny house itself for an amazing and unique experience you can't get anywhere else.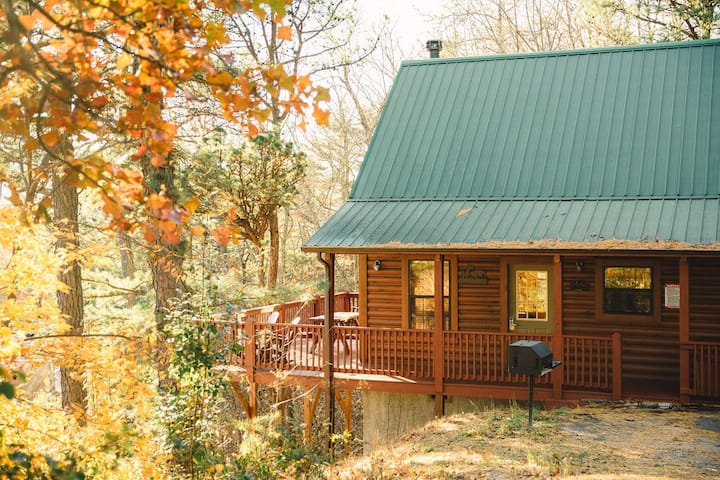 Sit back on a patio that overlooks the mountains, enjoy a cuppa, and completely unwind. The viewing deck is huge and has a grill and a hot tub perfect for spending your entire stay on. This cabin is located in Wears Valley, the back village in the Great Smoky Mountains, and you can visit the nearby Pigeon Forge area just a short drive away. This cabin also has a fireplace for the winter months and an arcade set up. What will you do first?
Lose yourself in far away fantastical worlds from within this Hobbit-inspired tiny house. The Hobbit Knoll, Treehouse of Serenity, will make you feel bigger than normal with its small rounded door, and you may even feel like you'e stepped into New Zealand. The house is mostly built into the earth, with a glass dome-shaped door that opens up to views of cascading mountains. The house inside is much more spacious than it appears indoors and is likely to be a wonderful, comfortable, and unique stay.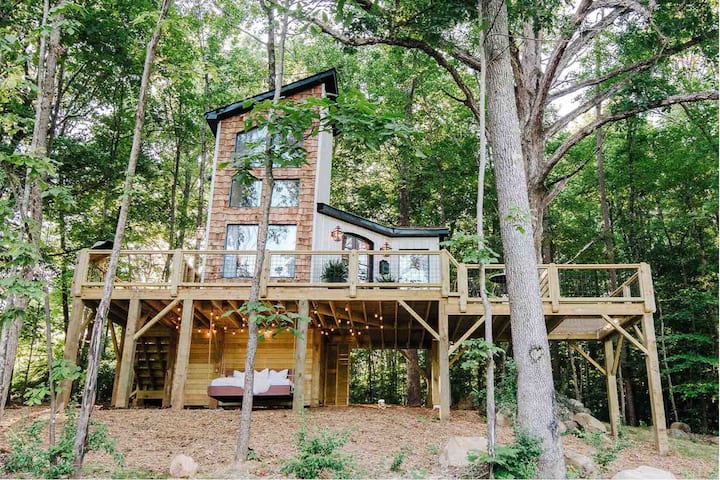 From morning to night, there's a cozy and slow way to spend your day. Enjoy a cup of coffee with lush forest views in the morning, listen to the trees on the outdoor patio or put on a record during the afternoon, and curl up on the swing bed as the sun sets. The Carolina Treehouse is a short distance from Charlotte, there's even a fire pit and lake views. The perfect stay for the upcoming long weekend.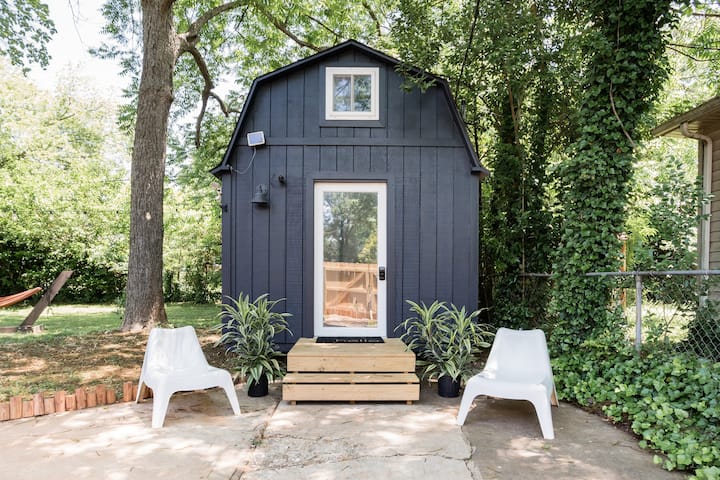 Head over to Country Club Heights and enjoy a cozy little space here at this tiny house AirBnB. From the loft-style bedroom to the outdoor patio, you'll get a first taste of what it's like to live in a tiny home, and in a great space too. A short drive away is Charlotte where you can enjoy all of the amazing restaurants it has to offer. Don't forget to enjoy the fire pit and hammock as well.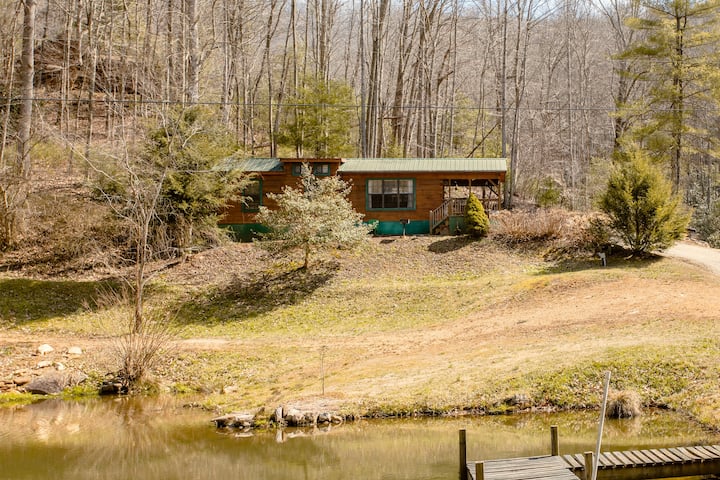 Chill out pond side at this cute little cabin tucked away near Asheville. Enjoy mountain views as you take in the secluded air and enjoy. The cabin is set up for two to spend a secluded, outdoor getaway, and what's even better, it's only 10 miles away from downtown Asheville. Hike as much as you'd like, then drive on down to Asheville for some great local beer.
---